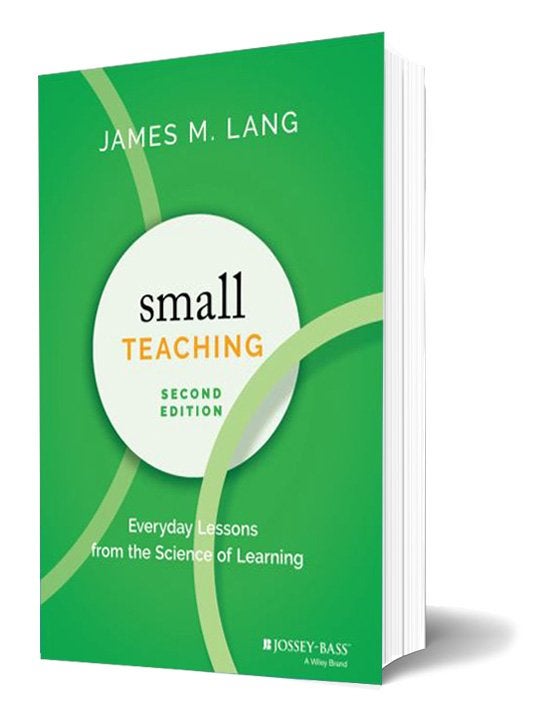 The fall 2023 reading group selection is Small Teaching, by James Lang (2nd edition).
If you will be attending the reading group and would like for the CTE to purchase a hard copy of the book for you, please fill out this form. Please respond by August 21st if you would like a hard copy of the book.
The first edition is available as an e-book through the Fondren Library. One copy is also available for checkout from the CTE library.
Fall 2023 reading group dates
The reading group meets on Wednesdays from 12:00-1:00pm in Herring 129; lunch (pizza) is provided.
Wednesday, September 6: Chapters 1-3
Wednesday, October 11: Chapters 4-6
Wednesday, November 1: Chapters 7-9
Please RSVP here if you plan to attend!
Past reading group selections
Higher Education by Derek Bok
Overcoming Student Learning Bottlenecks: Decode the Critical Thinking of Your Discipline by Joan Middendorf and Leah Shopkow
The Inequality Machine: How College Divides Us by Paul Tough
Race, Equity, and the Learning Environment edited by Frank Tuitt, Chaya Hanes, and Saran Stewart
Relationship-Rich Education: How Human Connections Drive Success in College by Peter Felton and Leo M. Lambert
Connected Teaching: Relationship, Power, and Mattering in Higher Education by Harriet L. Schwartz, Laurent A. Daloz, and Judith V. Jordan
Small Teaching Online by James Lang
The Privileged Poor by Anthony Abraham Jack
How Humans Learn: The Science and the Stories Behind Effective College Teaching by Joshua Eyler
The New Education by Cathy N. Davidson
Make It Stick by Peter Brown, Henry L. Reedier III, and Mark A. McDaniel
How College Works by Daniel Chambliss and Christopher Takacs
Mindset: The New Psychology of Success by Carol Dweck
Excellent Sheep: The Miseducation of the American Elite and the Way to a Meaningful Life by William Deresiewicz